Gutters
We specialize in 5" AND 6" K style gutters using .032 gauge aluminum (thickest in the industry). We also specialize in 16oz. and 20oz. copper K style gutters as well. Our gutter machines can custom fit any gutter to virtually any roof line. After our gutters are installed, you can rest at ease knowing professionals installed your gutter system.

At Gutter King, we use only the best materials available. This includes Raytec Hidden Hangers that are spaced every 10 to 12 inches on center. We use only stainless steel screws in all gutters and downspouts, unlike most of our competitors who use zinc (which will rust over time).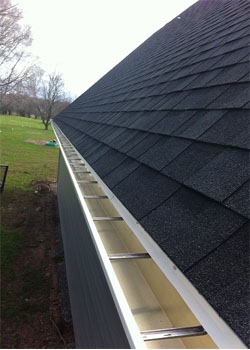 Don't be fooled by imitators and inexperienced gutter companies. Gutter King has the experience and knowledge to get your job done right the first time.
Gutter King services a large area, including: Utica, Rome, Oneida, Herkimer, Old Forge, the 1000 Islands, and Watertown. We are fully insured with workman's comp. included.